HOME | WHAT IS REIKI? | USUI REIKI RYOHO TRAINING | REIKI TREATMENTS | TESTIMONIALS | ABOUT | CONTACT | EVENTS & COURSE DATES



Prerequisite: Shoden or Reiki Level I
Suitable for: This Level II course is suitable for existing Level I Practitioners (Students) either students with One World Reiki or students from other lineages who wish to learn Reiki from the Japanese perspective.
Certification: Each student on completion of the course will receive a quality, professional certificate and comprehensive Okuden Level II iinstruction manual.
Duration: Minimum of one day in-person Usui Reiki Ryoho training plus ongoing opportunities for students to develop professional Practitioner skills.
Course times: Day 1 - 10.00am till 5.00pm. Day 2 - 10.00am till 5.00pm.
Venues: Solihull – One-to-one personal and private tuition. T.B.A. – Group training.
Your teacher/facilitator: Grenville Williams, Founder of One World Reiki.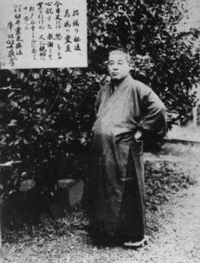 The Okuden Level II course builds on the foundations of the Shoden Level I course. After completing the first Level of the system of Reiki, Shoden, the student must practice on him or herself.
After some period of time an Okuden student will have achieved a new level of confidence and balance. At this point, which is unique to each student, it will become time to begin working on the self with a new level of energy – this new level of energy is the essence of Okuden.
Through Okuden, the student develops many of the skills taught in Shoden, deepening and expanding the student's understanding of Mikao Usui's teachings, and thus enriching his or her practice.
Okuden is a Japanese word meaning 'Hidden' or 'Inner Teachings', and traditionally contains two separate parts known as Zenki (Japanese: First Part) and Koki (Japanese: Second Part). Both of these parts are taught within One World Reiki's Okuden teachings.
During the course we review the four elements of traditional Japanese Reiki practise: Gokai (Philosophical Precepts) for developing spiritual and mental focus, the student's emphasis continues to be placed on developing the spiritual and mental connection using the Five Precepts; Kokyu Ho (breathing techniques and meditation), Tenohira (hands-on healing, the physical practice on the self continues. Working on others for the purpose of healing takes on a professional edge. The Okuden manual includes greater detail in how to work professionally as a Professional Practitioner), and Reiju (receiving a spiritual blessing, or 'attunement' from one's teacher). Three Reiju and/or attunements take the student's energetic connection a step further.
Okuden students are also introduced to the Fifth Element: Jumon (mantras) and Shirushi (symbols). Three of the four mantras and symbols are taught, along with their descriptions and uses. The symbols are a unique and powerful aspect of the Okuden teachings; the use of them in treatment or meditation.
Throughout the course, Okuden Practitioners/Students are also introduced to many more authentic and original traditional Japanese Reiki techniques as taught within the Okuden Level II teachings within the Usui Reiki Ryoho, including: Hatsurei Ho (a method for generating greater amounts of spiritual energy and strengthening one's Reiki), Enkaku Chiryo Ho (remote/distance healing method), Byosen Reikan Ho (sensing energetic imbalances before illness with the hands using sacred intuition) and Reiji Ho (a method of being guided by spirit).
After completion of Okuden Level II course students will be, with practice, fully qualified to work as professional Usui Reiki Ryoho Therapists/Practitioners, should they choose to do so. For those who are interested in working professionally, we will cover the practicalities and ethics of starting up and maintaining a therapeutic practise.
An extensive course manual is provided for each student, as well as a professional certificate of completion. After the course support Reiki Practice groups are also provided for all students, should the need arise. One World Reiki host regular Reiki Practice groups, where Practitioners of all Levels of proficiency, Shoden, Okuden and Shinpiden, may come to exchange treatments and receive Reiju; all Students/Practitioners are encouraged to attend. Private consultations are also available.
The course is a combination or lecture, discussion and experience.


Your Usui Reiki Ryoho lineage (your Reiki lineage is a type of family tree showing you the energetic connection from your teacher through to the founder of the system of Reiki, Usui Mikao).
The system of Reiki: Shoden Level I, Okuden Level II, Shinpiden Level III, a brief description of the three Levels.
Explanation about the five major elements that make up the complete system of Reiki and their relationship to Okuden

Precepts for developing spiritual and mental focus.
Techniques and meditations.
Hands-on healing.
Three of the four mantras (Jumon) and symbols (Shirushi) are taught, along with their descriptions and uses.
Reiju/attunements (three Reiju and/or attunements are received by the student to take their energetic connection a step further).

**The major new element of Okuden is the learning of the three mantras (Jumon) and symbols (Shirushi). The Okuden manual contains specific information about how to use each of these mantras and symbols.

Developing your spiritual and mental focus: working with the precepts at Okuden Level to enhance and develop your personal, and eventually your professional, practise (if you so desire).
Learn Okuden Zenki and Koeki techniques and meditations:

Hatsurei Ho (a method for generating greater amounts of spiritual energy).
Enkaku Chiryo Ho ('Distant' or 'Remote Reiki') method.
Byosen Reikan Ho (sensing imbalances) method.
Reiju Ho (a method of being guided by spirit).

Hands-on healing (Tenohira) for:

Performing treatments proficiently and professionally.
Learning stages of a Reiki treatment:

Guidelines for pre-treatment.
Guidelines for and during treatment.
Guidelines for post-treatment.

Additional treatment considerations.

Information and recommendations for keeping professional case notes.
Client consent forms on a client's treatment/s.

**A substantial part of the Okuden Level II course is devoted to the practice of giving treatments. Each student is assured the opportunity to both give and receive several Reiki treatments over the course duration, which is relaxing, healing and a beneficial experience for everyone involved.

Mantras (Jumon) and symbols (Shirushi)

About the three Jumon (mantras) and how to use the Jumon.
About the three symbols (Shirushi) and how to use the symbols.
Working with the symbols and Jumon:

Working with symbol 1 and the accompanying Jumon.
Working with symbol 2 and the accompanying Jumon.
Working with symbol 3 and the accompanying Jumon.

You will learn the Japanese principles of In (Earth) and Yo (Heaven) and how this concept relates to Reiki, and how you can experience oneness/connection.
Breaking the Reiki code.

Receive three Reiju/attunements during the course which are based on traditional Japanese Reiju and are entirely unique to the system of Usui Reiki Ryoho. Each attunement helps to strengthen, cleanse and balance the energy system making it easier to perceive and work with Ki.
Certificate awarded from One World Reiki at the completion of the course.

**Students remember Reiki is not about certification - it is about your own personal practise. In traditional Japanese teachings a certificate is given to indicate that certain Levels of proficiency have been reached and that the student/participant is just beginning that actual Level.


Progress deeper along your spiritual path and deepen your own personal healing process.
Begin to release your fear and anger.
Find balance in everyday life.
Understand your connection to people, places, nature and events in the world around you.
Experience the sensation of being grounded in any situation.
Expand your knowledge, understanding and practise about the system of Reiki from a Japanese perspective (Usui Reiki Ryoho).
Learn to work with three Reiki symbols (Shirushi) and three mantras (Jumon), plus their meanings, usage and spiritual description and their relationship to the Japanese energetic system.
Learn new techniques for meditation, relaxation and self-healing.
Become more confident in treating others.
Begin to help others professionally.
Receive guidance in working as a professional Reiki Therapist.
Receive individual ongoing attention and guidance from your teacher.
Learn to help others through the concept of oneness (distant healing).

One World Reiki host practice groups on a regular basis for all Shoden Level I, Okuden Level II and Shinpiden Level III Students/Practitioners/Teachers to practice, receive Reiju, socialise and have fun.

The aim of the practice groups are:

To provide an opportunity for students to socialise with others who have similar interests.
To provide a safe and secure environment in which students can practice.
To provide ongoing learning opportunities both energetically and spiritually in line with the teachings of One World Reiki.
To provide moral support through teacher and fellow students.
To provide an opportunity to receive Reiju/attunement.
To provide motivation towards self-practice.
To provide an opportunity to extend hands-on healing skills.
To provide students the opportunity to continue the healing journey.
To provide the opportunity to continue with the unique teachings of One World Reiki by utilising The Three Diamonds and the five elements of the system of Reiki as a basic structural understanding of the teachings.

Contact with your teacher in person or via email or phone.
21-day post support.

Refresher courses: All One World Reiki students are welcome to re-sit Levels I, II and III after completing the Shinpiden course.

Contact: Grenville Williams, Senior Teacher, One World Reiki Training
Telephone: 07900 543157
Email: grenville@oneworldreiki.com
Course cost and investment: Tuition fee for Okuden Level II training is: £300
**SPECIAL OFFER** Book a course for you and your friend and receive your course half price. (Conditions apply:- Please note that you must attend the course together and your friend pays full price.)
Find out about:
Shoden Level I (Japanese: Beginner Teachings)
Shinpiden Level III (Japanese: Mystery Teachings)
HOME | WHAT IS REIKI? | USUI REIKI RYOHO TRAINING | REIKI TREATMENTS | TESTIMONIALS | ABOUT | CONTACT